Roof Repair Service – Roofing Expert Woodlands TX
If there is a leak or smudge in your roof, then you need to take immediate Roof repair service. Roof in an integral part of your home and needs regular care and maintenance. Imagine the negative impact a leaking roof can have and, if it is too late, maintaining becomes much costlier. Hence, it is always a good idea to consult a roofing expert in your area and take up a Roof repair service at the very initial phase of the damaged roof.
Roof repair service is of great help and can take care of the flaws in your roof. Expert roofers know what is the best procedure needed. They have a team of experts and a good local experience of Roof Repair service. Even if you have the slightest stain or a damp wall close to the roof, it is a good idea to consult an expert roofer near you. At the initial stages, it is much affordable to fix and maintain over the years. However, if neglected the leaky or dampen roofs can cause enough hassle in the daily lives, not to mention the huge cost required to fix it.
However, sometimes the signs are not obvious, and you will be unsure about your roof repair.
So, let us look into some of the signs which is used to judge whether your roof needs a repair or not.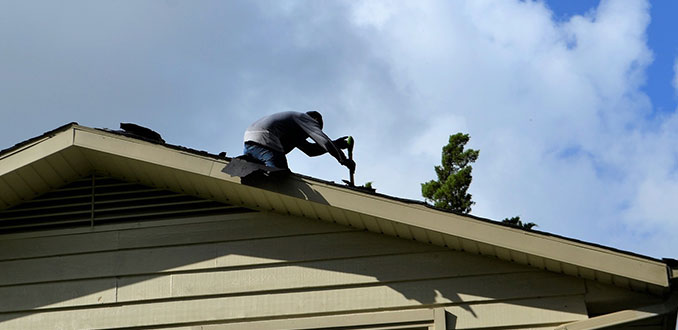 Signs your roof needs roof repair service
As a homeowner, you need to look at some obvious signs that your roof needs a repair so that you could call the Roof repair service whenever necessary. The signs include.
Leaky and rusty gutters
Torn shingles
Water stains in your walls or ceilings
Bloated wood
Damaged or cracked flashing
Damage caused by the Woodlands weather
The weather of Woodlands, TX is well known for its unpredictability. From hurricanes, tornados, hail, ice storms to extended days of rains. All the severe conditions can put your roof to test. So, after your home is hit by any such natural calamities it is always recommended to get your roof inspected by a trusted Roof repair service. The faster you spot a flaw the better the chances you can prevent costly damages.
Emergency roof repairing can be overwhelming and can throw you in the loop. Your business or home cannot function unit unless the roof is repaired. At these times an experienced roofing service can help you in fixing the problem effectively and efficiently.
Discount Roofing, a highly trained and licensed roofers exceeded the roofing repair service with their top quality, efficient, customer-friendly service in Woodlands, TX. Some of the specialties services they provide are
Residential Roofing
Roof repair
New roofs
Metal Roofs
Roof inspections
Tile Roofs
They offer guaranteed and professional roofing service at your doorstep. With highly experience professional and craftsmanship, they know what is best for your roof and the best time when your roof needs service. Discount Roofing uses only the finest material. They are committed to providing the best experience to their clients with their unbeatable Roof repair Service.